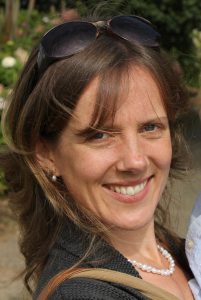 From as early on as I can remember I have been interested in the human mind and heart, and curious as to what it means to truly embrace and love this 'one, wild and precious life'. I followed my passion and studied Psychology at University College London. Following this I trained as an Occupational Therapist working in mental health settings. Since 2003 I have been teaching both mindfulness and yoga in various health settings, including at Exeter University where I taught Mindfulness-Based Cognitive Therapy (MBCT) for a number of years. During this time I supervised and assessed students, and was fortunate enough to be part of a team leading an innovative research study, comparing the effectiveness of MBCT with anti-depressant medication, as well as a study on the benefits of self-compassion.
In the early days of learning to meditate I quickly realised how disconnected I was from my body; this led me on a rich and fruitful exploration into embodied movement practices such as dance, contact improvisation, Qi Gong and Yoga. I fell in love with the practice of yoga and have been practicing and teaching this ever since.
Perhaps the richest learning for me was been becoming a mother. I am so very grateful for the presence of my two children in my life who teach me so much about what it means to love, and be loved, as we already are.
Currently I teach Mindfulness-Based Stress Reduction (MBSR) for the Mindfulness Network. I also offer yoga, breath work, deep rest classes, retreats and workshops both online and in-person. More recently, I have completed the foundational Mindfulness-Based Compassionate Living (MBCL) training and have also now developed two online courses; 'Your One Wild and Precious Life' and 'BREATHE'.
My passion is supporting people through yoga, mindfulness and self-compassion to come into a kinder, wiser more loving relationship with their whole selves, so they can enjoy more freedom, joy and fulfilment in their lives.