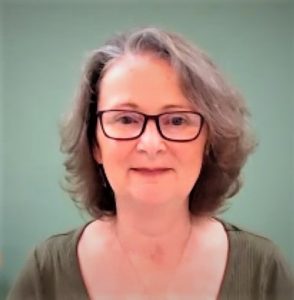 I was born in Torpoint, Cornwall and then moved to a tiny village in the Tamar valley where I spent my childhood running around fields in complete freedom. It was only in my teens that I realized that this isolation was not great for work opportunities, so like my older brother and sisters I needed to leave home. Higher education was not an option.
At the time there were adverts calling for people to join the forces and see the world. So at 17 I found myself in basic training in Guildford. I served for six years with tours in the UK and Cyprus where I was lucky enough to meet my husband of 42 years, he is my rock.
Whilst perhaps not the normal grounding for someone working in mindfulness-based approaches I am grateful for the leadership skills, ability to work in a team, and self-discipline that I gained from the military. It also gave me E.D.I.P or explain, demonstrate, imitate and practice, a compassionate way of training, developing and supporting people.
Shortly after leaving the Army in 1982 I discovered I had cervical cancer. As well as treatment I turned to yoga and meditation to help support me. As the years went by, other health challenges presented themselves. Although I was practicing, it was only in later years I realised I was listening but not understanding.
Life took us to live in Cyprus, Mallorca, Ibiza and Spain but the turning point came in 2006 when I woke up in intensive care after suffering a deep vein thrombosis and pulmonary embolism brought on by the stress of working 24/7 as a Regional Manager.  I realised that I was lucky to have a second chance at life and I found mindfulness (or did it find me?).
Finally understanding that change was the only option, I took voluntary redundancy and travelled to Brazil and the USA to train as Integrative Yoga Therapist, Hatha and Ayurvedic Yoga Teacher. I also qualified in Clinical Hypnotherapy and NLP Coaching with Cognitive Behavioural Therapy CBT, as a Motivational Therapist, and Wellness Coach. Building on my yoga and meditation training I also took TTP courses with CMRP in MBSR, MBCT for cancer, mindfulness-based supervision and the MBI-TAC.
Whilst teaching yoga and meditation to the general public supported me, training, supporting and developing people is in my calling. So in 2010 I became accredited as a USA Yoga Alliance registered Yoga Teacher training school offering 200hr Mindfulness Hatha Yoga and Mindfulness Yin Yoga courses with a focus on the eight limbs of yoga rather than just asana.
In 2012 together with an ordained Buddhist colleague, we developed a 200hr Mindfulness-Based Stress Reduction teacher training course accredited by the UK Yoga Alliance Professionals. We worked together for five years.
In 2017 I developed shorter MBSR Teacher Training courses and became an externally accredited Provider of Training Excellence with the UK based and globally recognised Professional Development Consortium and CPD Standards Office.
Out of the blue in 2019 I was invited to give a TEDx talk at an event called "What If" so I chose to talk about Mindfulness and Kindness, the keys to happiness. Luckily I found that my practice really supported speaking in front of 2,000 people!
For the last few years, as well as running Mindful Academy International, I have been working as a Mindfulness consultant and course developer for the World Health Organization. The course I developed is built firmly on the foundation of mindfulness-based practice with the intention of developing skills to navigate the complexity of professional and personal lives with more ease. Currently the subject of a one year WHO research project, we hope to publish a paper late in 2021 with a planned global roll out in the next biennium.
I continue to run Mindfulness Teacher training courses, corporate Mindfulness courses, 8-week MBSR courses and a 4-week Mindfulness-Based Emotional and Social Intelligence M-BESI course I developed plus occasional mindfulness yin yoga courses. I also support my community of International mindfulness trainers and teachers with supervision and CPD events.
I am grateful for the opportunities that life has presented to me, and as a way of giving back I volunteered to work on the Mindfulness Network Community Friends Committee. I look forward to working with a great team of people supporting people who are passionate about mindfulness, and for a charity whose mission and vision match so closely to my own.
The journey continues!