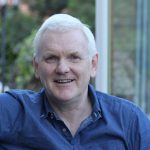 I grew up in Bradford, and have lived in West Yorkshire most of my life. I had a knack for maths and was one of the very few among my friends to make it to university, and the first in my extended family. That knack turned into a skill in programming computers, and it took me quickly to senior roles. By my late thirties the house in the Surrey suburbs was a long way from the council house my parents still occupied.  
By my 40th birthday life was a mess. My wife had died after a long struggle with cancer, I had three young children, no job, lots of other problems, and I was anxious and depressed. With the support of friends and family I had to reorient my life, focus on care for me and my children, and find a way back into work. At the same time I took up a regular meditation practice. The next decade was a huge challenge, but my practice helped sustain me through it, and later support me in a senior management role in the NHS.  
My interest in contemplative practices goes back to my early teens, and I had some academic understanding of meditation but no practice. On the recommendation of a friend, I found a TM teacher and started a daily practice soon after my 40th birthday. Along with the other changes I was making in life, it helped hugely to alleviate my anxiety and depression. Over time my practice evolved, I read widely, and I adopted more traditional Buddhist practices but largely self-taught. 
As I approached retirement I wanted to teach meditation, but in a secular context. Mindfulness was very much in the press, and I had read Full Catastrophe Living. I wanted to find a training programme that would enable me to deepen my understanding, which is how I found myself on the Masters programme at Bangor. The Masters was quite a challenge for me, in many ways, but a very rewarding one, and I continue to study and deepen my understanding and practice through CPD. 
The opportunity to work with the Mindfulness Network arose as I completed my Masters in 2016. It has been a huge adventure as it has progressed from a small community interest company to a substantial charity, and I have enjoyed blending my management skills and mindfulness practice to help in its progress.  
I am married, live in Wakefield, and we have a large combined family with  three young grandchildren who keep us busy. I enjoy yoga, ballroom and sequence dancing, occasional scuba diving, and very bad piano playing (grade 3 failed). I teach mindfulness about a day a week, alongside the work I do for the Network.  
Life is always full of challenges, and my practice is a core part of my life. I am continually surprised by it. The skills and insight I have picked up in later life through practice and mindfulness training would have been invaluable to me as a young adult, and would have helped me alleviate the trauma and support my family better through the difficult times, so supporting an organisation that helps others develop their mindfulness practice and teach is a real honour.