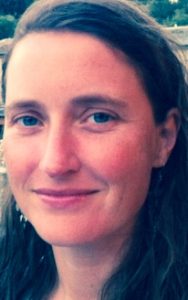 I am a mindfulness teacher, with a private practice in London. I teach MBSR and Interpersonal mindfulness programmes. I am an associate teacher at the Centre for Mindfulness Research and Practice (CMRP) where I offer Distance Learning programmes and also supervise teachers for the Mindfulness Network. I have delivered Mindful Movement teacher training in the UK, and regularly teacher train in Europe. I have also taught numerous workshops and Workplace Mindfulness courses for NHS trusts and charities. Since 2007, I have been an Insight Dialogue retreat teacher in training with Gregory Kramer and senior teachers at The Metta Foundation.
---
Qualifications
BA Hons English Literature, University of London ( 1992)
Scaravelli Yoga Teacher Training (2005 – 2007)
MA Teaching Mindfulness Based Approaches (2006 – 2011)
Certificate in Teacher Competence (2005) Bangor University, CMRP
Mindfulness-based Supervision (2012) Bangor University, CMRP
Interpersonal Mindfulness Programme (2013) University of Massachusetts Medical School and The Metta Foundation
Mindfulness-based Interventions: Teacher Rating Scale Training (2016) CMRP
Training the Trainer, CMRP (2017)
---
Teaching-Training Specialisms
Mindfulness teachers in training, new teachers and experienced teachers
Mindful Movement
Relational Mindfulness
Distance learning formats include Skype and telephone
Mindfulness-based Stress Reduction (MBSR)
---
Retreat Lead Experience
I have co-taught Dharma Contemplation with Gregory Kramer for London Insight, assisted Phyllis Hicks teaching Insight Dialogue at Gaia House and Bhante Sukhacitto at The New Life Foundation in Thailand. I have offered day retreats in London and weekend retreats in Bucharest, Romania.
---
Retreat Specialisms
Interpersonal Mindfulness
Mindfulness-based approaches
Mindful Movement
---
Personal Practice
I have had an ongoing meditation and yoga practice since 1992. My meditation practice began in India with Vipassana, S.N. Goenka, and yoga with B.K.S. Iyengar. In 2006, I was fortunate to visit the Theravada Buddhist monastery Amaravati, where I discovered that I could study Buddhism, without becoming a 'Buddhist.' The teachings were a revelation to me and continue to be a resource for study, contemplation and practice.
I am regularly engaged in relational and solitary practice and retreat. I work on a one-to-one basis with Yanai Postelnick and Gregory Kramer. I am an avid student and read voraciously, as well as sustaining a substantial meditation and yoga practice. I draw on the various religious, and poetic traditions for inspiration. I am particularly interested in the transformative power of authentic relationship for individuals and communities.
I am dedicated to 'walking my talk' with regard to mindfulness, and regard the way I live my life as practice, a continual challenge and joy.
---
Research Activities and Interests
The pedagogy of mindfulness and the person of the mindfulness teacher
The 'shaping' role of language in teaching mindfulness
Embodiment: the centrality of the body as a medium of awareness
Relationally and the role of empathy in teaching mindfulness
---
Further Information
Rosalie's website – www.optimalliving.co.uk