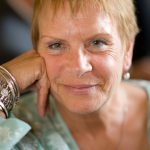 I have been involved in teaching Mindfulness-based Approaches (MBAs) since 2000 and have been a member of the core training team of the Centre for Mindfulness Research and Practice (CMRP) since its inception. My background is in community development, both here in the UK, and in South Africa. I use mindfulness in all my work with: health professionals training to become mindfulness teachers; hospice staff looking to improve their self-care; local rural women in South Africa managing family illness and poverty; and people living with uncertain futures due to terminal illness. I enjoy leading retreats of all sizes and have been involved in supporting retreats in the UK, Europe and South Africa. I teach on the masters programme at Bangor University, and lead workshops, teach eight-week MBCT for Cancer programmes and supervise MBA teachers.
---
Teaching Training Specialisms
MBCT for Cancer
Group work skills for MBSR/MBCT teachers
---
Retreat Lead Experience
Several five and seven-day silent Mindfulness-based (secular) retreats in North Wales for CMRP and latterly the Mindfulness Network
Five-day silent retreat in South Africa in 2016 for 80 practitioners/trainee teachers
Various other retreats including a four-day retreat in Portugal in 2014 for palliative care students
---
Personal Practice
I have had an established personal meditation practice since 1991 and was introduced to mindfulness meditation in 1996. I have had experience of Tibetan practice in the past and now follow Vipassana or Insight practice. I very much value the opportunity to go on silent retreat myself, sometimes based at home, since I live in a beautiful place on a mountain in North Wales.
---
Publications
Bartley, T., (2017). Mindfulness: A Kindly Approach to Being with Cancer. Chichester: Wiley Blackwell.
Bartley, T., (2012). Mindfulness-Based Cognitive Therapy for Cancer: Gently Turning Towards. Chichester: Wiley Blackwell.
Bartley, T., (2003). Holding Up The Sky: Love, Power and Learning in the Development of a Community. London: Community Links.
I have also made minor contributions to various articles mostly connected to the training of MBA teachers and MBI:TAC – an assessment tool for the adherence and competence of mindfulness-based teachers.